Last Minute Birthday Gift
8 Creative Ways to Gift Money

Home >> Special Birthday Gifts >> Last Minute Birthday Gift
Money is the ideal last minute birthday gift. All you need to do is open your wallet or stop by the nearest ATM machine, take out some bills and put them in a nice envelope.
It's a gift you can give to everyone no matter how old he is
It's a gift nobody will ever return
The recipient can use it to buy whatever he likes
It takes only 2 minutes to "make" it and to wrap it
It makes a great gift to almost every occasion
But… You're right – that is BORING and predictable…
With a little creativity and 10-20 minutes you can easily turn it to the perfect last minute gift!

Here Are 8 Creative - Cool Ways
to Gift Money


Money Balloons

Balloons always get me in a party mood. They're colorful and decorative, and the best part is to pop them at the end of the party :0)
Now imagine you are the birthday boy and all the balloons are filled with cash… So much fun!!! Pop them and collect the dollars that fall from the sky…
Is it a perfect gift or not? :0)
Hang one money balloon for each year of the recipient's life - you can start a family tradition like Amy from increasingly domestic.
Another excellent option is to give helium balloons filled with confetti and money. Here are some tips from Eden from Sugar and Charm who was kind enough to share her photos with us too – Thank you Eden!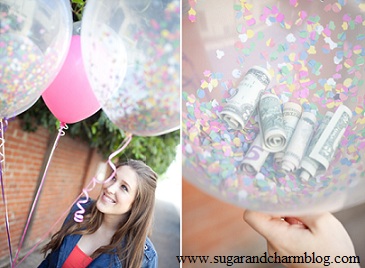 Instead of sending some cash in a card to your little loved ones who live on the other side of the country why not fill a big box with little money balloons? It's so much cooler and enjoyable…
Don't "Blow" It All in One Place

I think this is the funniest way to give money. Get an empty tissue box and lots of 1 dollar bills. Tape the bills together end to end using a scotch tape and roll them up. Put the roll in the empty tissue box and tape a tissue to the end of the money roll so it is hung out of the box and wrap the box.
Imagine the look on your giftee's face when he opens his gift and finds a tissue box :0(
Now imagine his reaction when he finds out that the tissue box is filled with cash :0)
Thanks for Lovezilla for the funny idea and for the lovely photo.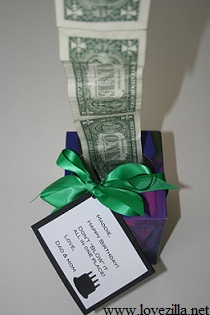 The Sweetest Chocolate
With this last minute birthday gift you can really wait for the last minute. All you'll need is one quality chocolate bar and a bill of your choice. Gently remove the outer wrapping, place the bill between the silver/gold wrapping and the outer wrapping and glue it back. Put it in a nice gift bag and you're done!

Break Glass In Case of Emergency
This is a great last minute gift idea that is very easy to make and so much fun to receive. All you need is 1-2 bills and a photo frame.
This makes a wonderful graduation gift, holiday gift and wedding gift. No matter what's the occasion - You're sure to see a big grin :0)
Thanks for Elaine from Create My Event for the photo!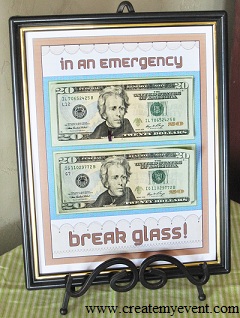 Money Origami Ring
If you are looking for a romantic last minute birthday gift for your girl this is definitely THE gift. Make her money origami ring, put it in a nice ring box and make her the happiest girl in the world – she's just won a 2 for one – jewelry and some money for shopping…
Here is a short video that shows you how to make a moneygomi ring:

Expensive Box of Cigarettes
If you're looking for a prank gift – this is a great choice! Get your recipient's favorite box of cigarettes, open it, replace the cigarettes with rolled up dollar bills (or 5$, 10$, 20$ or a mix of them) and re-wrap it with cellophane paper.

Who Said Money Doesn't Grow on Trees
Prove your friend once and for all that money can grow on trees by making him a special money tree gift. Get a small tree plant or a medium sized planter and make as many origami flowers as you like - the more the merrier :0)
Here is an easy video tutorial that shows you how to make an origami flower out of 3 bills:
Now that the flowers are ready - use floral wires or pipe cleaners to hang them on the tree. That's it - your money tree gift is ready!

A Box of Chocolates
A fancy box of chocolates makes a lovely last minute birthday gift, but there is one down side… The gift is gone once you finished eating it :0)
Putting a folded bill under each bonbon will give the best solution – yummy and practical…
Gently open the chocolate box and use double sided tape to secure the folded bills under each bonbon. Then use cellophane paper or a shrink wrap to re-wrap it. Money is considered as a dirty thing so make sure each bonbon is wrapped individually.
You can, of course, put cash instead of the chocolates.
I know that not everyone thinks that money makes a good gift but it sure is a great last minute birthday gift (and graduation and holiday and retirement and whatever occasion…). I hope that these ideas showed you that you can easily "wrap" it in many creative ways and personalized it a bit.
Return from Last Minute Birthday Gift to Special Birthday Gifts

Return from Last Minute Birthday Gift to Great Unique Gifts Homepage