Finding unique Fathers day gifts seems like mission impossible?
>> Unique Fathers Day Gifts



Unique Fathers Day presents can be as unique as your dad is, and as special as the bond between you two. The options are limitless!!! as you may incorporate homemade with store bought, multiple categories and so much more.


What makes Fathers Day presents special and unique is not how much money you spend. The thought and love that goes into selecting gift is what will make it distinctive. In fact, that's true for all gifts, but especially for Father's Day. Anyone can give a tie or a wallet, but it's those gifts that you choose, based on your knowledge and understanding of who is your dad, that will make your gift exceptional.


You might even get creative and make your Father's Day present for that extra special touch.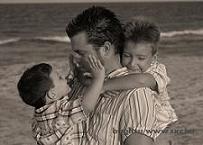 Sometimes it is challenging to come up with unique gift ideas for dads, but unique presents do not have to be over the top. They can be as simple as something related to your dad's hobby, interests, job or even culture.


You should have no problem finding half a dozen different and unique Fathers day gift ideas just by thinking about what your dad interests. Regardless of what your dad likes to do, you can find a unique gift that suits him perfectly.


No matter if you are a young child, a teen, a grown up "child" or a wife looking for unique Fathers day gifts, we are here to make your gift search easy, simple and effortless:

"Daddy and Me" Photo Collage - Do you want to give your dad the perfect Father's Day gift? Make him a photo collage with photos of you and him having the time of your life (maybe mom and your other siblings can join too :0) ). If your dad already has grandchildren you can create a collage of him and his family - three generations. This will really make him proud!

Best Fathers Day gifts - Our best Fathers day gifts will make your dad happy and satisfied this Father's Day. You should really check them out!

Homemade Gift Certificates - Homemade gift coupons are one of the easiest and most heartfelt gifts you can give your dad. They are fun and easy to make. They cost almost nothing and they make a wonderful way to show your dad how much you love him.

Homemade Scratch Off Lottery Tickets - homemade scratch off gift ticket is a variation of the Coupon Book above. Let your dad scratch his Father's day ticket and win your time as a present.


Return from Unique Fathers Day gifts to Great Unique Gifts Homepage