Homemade Gift Certificates
>> Easy Homemade Gift Ideas >> Homemade Gift Certificates



Need a last minute gift?
Looking for a great unique gift?
Running on a tight budget?

Homemade gift coupons are your perfect gift!


Homemade coupon book is fun and easy to make, it costs almost nothing, you can use it for pretty much any occasion and – it's a wonderful way to show your appreciation.


Here are several great ideas that can't go wrong:

Father's Day
Car wash
Control of the remote for a full day
Lawn mowing
Garden weeding
Special lunch
Taking out trash
A morning to sleep in
Home cooked meal of your choice
Favorite homemade dessert
Magazine Subscription of your choice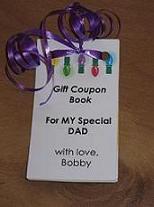 Mother's Day
Big hug
Breakfast in bed
No dishes today
Undisturbed nap
Kitchen clean up
Evening Child Free
Girls Night Out
No laundry day
No fighting with my siblings for one whole day
One hour of quiet time
Packing the kids lunches for a week
One full day of the house all to yourself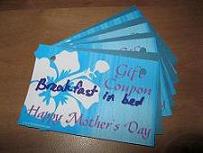 Valentine's Day or any Romantic Occasion
Full Body Massage
Romantic Picnic
Hot bubble bath for two
Walk on the beach on sunset
Romantic candlelit dinner for two
Passionate Kiss
'Win an Argument'
Complete foot massage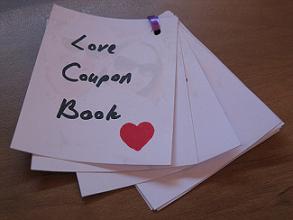 Kids (for birthday or just for fun :-) )
One sleep over
Bowling with a 3 friends
Overnight alone at grandma and grandpa
Stay up 30 minutes past your bedtime
Watch your favorite movie
Pizza Night
Stay out late (for teens)
One day off from school
Treat of Your choice
You can leave one coupon empty and let your recipient fill it…
You can use Construction paper or colored cardstock, colors and scissors to create your own certificates, design them using Microsoft Word/Power Point or use one of the templates below:
Microsoft word templates you can personalize


Printable coupons


How to make gift coupon book


Free printable gift certificate templates
If you need more gift certificate ideas for other occasions you can check out our
homemade gift coupons section in the "Find Me a Gift" service - browse for ideas or pop your own question.


Return from Homemade Gift Certificates to Easy Homemade Gift Ideas

Return from Homemade Gift Certificates to Great Unique Gifts Homepage