Make Your Own Calendar
The Ultimate Christmas Present
>> Unique Holiday Gifts >> Make Your Own Calendar


What would make a great Christmas gift to welcome the New Year? A calendar.


What would make the ultimate Christmas present? A personalized family calendar!


When it comes to the Christmas gift fever, what is your most desirable wish?
To find the perfect gift for each and every one on your gifts list.
From the comfort of your home.
Spending your precious valuable time with your family, doing household jobs or whatever things you have to do.
Without spending hundreds of dollars.
Yes – I know. These are 4 wishes. But – the homemade family calendar can make all of them come true!


Make your own calendar once and make copies for all your family members. The calendar will bring a smile to their face. It will remind them the most precious thing in their lives – their family.


Let's Get to Work
Before we start – you can make your own calendar in three different ways–
As a craft project – drawing the calendar, cutting the photos and gluing them.
Using free printable monthly calendar template and Microsoft word.
Using a calendar making software.
If you plan to give the family calendar to several people I would strongly recommend that you use option 2 or 3. This way you could easily make as many copies as you like.


Preparations
Select photos of all family members (digital or scanned). You have 12 months so make sure you prepare a large collection to choose from.


Make a list of all the dates you want to include in your calendar: birthdays, anniversaries, memorial days and any other important dates.


Monthly Calendar Template
Get a monthly calendar template – one for each month on an A4 page.

You can:

Use Microsoft calendar template - choose the Calendar Year option to get one template for all the months.



Use a calendar making software and Create a customized 2012 photo calendar. This is a super intuitive, user friendly software that gives you a yearly template and adds holiday dates automatically. You can easily add your dates and photos. Drag and drop a photo to a particular date and add some text (If your mom's birthday is on the 4th of June you can drag and drop her photo to that date, click on the date and add your text...Happy Bday Mom!).
Adding Dates
Go through each month and write all the events on the appropriate day in the calendar. If you have good computer skills you can add a photo of the family member on his birthday date. Use the
Paint
software to cut a part from a photo and paste it in the appropriate date.
Photo Fun
Make 12 pages of photos – one for each month. You can put a big picture on each page or make a little collage using a number of photos. You can make each page about the family members that were born or got married on that month. Another idea is to make each page about a different theme or event – weddings, Halloween costumes, birthday parties, babies (of family members as babies), grandchildren, birthday cakes…


If you're using the calendar making software you're done! All that's left for you to do is choose the number of copies you want and place your order :0)


If you chose the other option - you're almost there! Just print your pages and bind them together- That's it!


Done Having Fun?
Print all 24 pages – calendars and pages.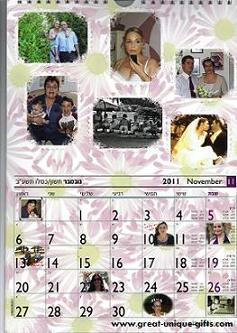 Almost Ready
Arrange all 24 pages. Take a photo page and match it to a calendar page. Now, arrange all 24 pages in the right order –
Cover page back to back with January photo page.
January calendar page back to back with February photo page.
February calendar page back to back with March photo page…


Laminate every two back to back pages. You can find lamination machine on craft stores or on your local library.


Make sure all pages are in the right order and in the right direction and bind them together.


Isn't it fun to make your own calendar?


Some Tips and Ideas
If you plan to give this calendar to a one special person make it a craft project. You will be giving one of a kind artistic gift.


If you prefer the crafty option or you don't have good computer skills make your own calendar in the crafty way. When you are done scan it and print it for as many copies as you like.


Instead of using a simple A4 page use a photo printing paper. This paper is thicker so you don't need to laminate the pages – just use glue to attach every 2 pages. The printing gets a glossy look and the calendar will look better.


Use the front cover to greet your family for the new, upcoming year. This is the best place to put a group photo of the whole extended family.


You can add place for Notes on the calendar pages.


Use the back cover to put all family members phones, emails and home addresses.
Making your own calendar is the ultimate Christmas present, isn't it?
HAPPY NEW YEAR!!!
Return from Make Your Own Calendar to Unique Holiday Gifts


Return from Make Your Own Calendar to Great Unique Gifts Homepage