Is It Hard To Find Unique Birthday Gifts For Her?
Not Anymore!

>> Unique Unusual Gifts >> Unique Birthday Gifts for Her



Give her a memorable and unique birthday present -
the SURPRISE ME birthday gift!
Finding unique birthday gifts for her shouldn't be a chore but rather a fun and exciting activity you look forward to each year. You want to wish a happy birthday in an extraordinary way but have run out of ideas or can't think of any ideas that seem appropriately exceptional.
What about a "surprise me" birthday gift?
A "surprise me" birthday gift is an unusual birthday present intended for those women who dislike surprise birthday parties because of the noise, chaos and amount of people gathered in one place. However, when everybody wants to wish the birthday girl a happy birthday, how do you do this without planning a party?


With a "surprise me" gift, of course!

As far as unique birthday gifts for her go, this one will definitely make an indelible impression on the honoree.


Begin planning the "surprise me" gala by having people celebrate the birthday girl one at a time, rather than all at once. The idea is to include personal birthday greetings and messages from the most important people in her life. Try to include some people she doesn't get to see on every day basis. If you were planning her a surprise party who would you invite?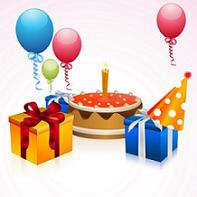 For example – have her Mom and dad knock on her door carrying a birthday cake. Later, say 30 minutes to an hour, the honoree's best friend calls her cell phone to wish a happy birthday. At the end of the call the friend then asks her to meet at the nearest coffee shop. She arrives to find her brother (who came especially from college). He will show her a short DVD greeting from her work buddies.


During coffee and catching up, the recipient receives a text message from her cousin wishing her a happy birthday and sending her to the mall. A close friend takes her to her favorite store and buys her a gift of her choice. When they are about to leave a singing telegram from her soul mate shows up… (I guess you got the idea).


Tips and Ideas
Try to diversify and have the right mix of happy birthday messages in the party, such as the DVDs, texts, video greeting cards as other unusual ways to give greetings. You could make graffiti greetings or write with chalk on the sidewalk that leads up to the places where she plans on meeting people.


During the "Surprise Me Party" include fun things the honoree enjoys – shopping, spa treatment, a movie, manicure and pedicure, haircut, visit to a museum…The fun activities can be given as gifts from the ones that accompany her to each place.This day should be all about her having a good time.


Unique birthday gifts for her might include planning a treasure hunt with the people involved in the "surprise me" party. For example, every time she meets someone, that person could give her directions to another location where a note is to be found telling her where her next destination lies. The last stop then would be a particular house that has its exterior decorated with balloons and other birthday paraphernalia. This type of party would make an unforgettable 21st surprise birthday party for someone, especially if the treasure hunt results in a present like a car or vacation.


You can make the whole "Surprise Me" party at home. Each greeter who comes to the house brings one party item – birthday cake, candles, balloons, happy birthday posters, drinks, snacks, party hats (and a gift of course!)… At the end of the day / afternoon you can throw a little party. It can be close family or some of the closest friends or it can be just the two of you having a romantic intimate birthday party. Or – if you are brave enough you can invite all the people that took part during the day :-)
Return from Unique Birthday Gifts For Her to Unique Unusual Gifts


Return from Unique Birthday Gifts For Her to Great Unique Gifts Homepage