From Disaster to Bon-Bon
by Amanda
(Pittsburgh, PA, USA)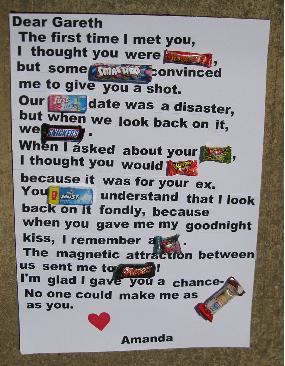 Happy 1st Anniversary My Dear
Hi,


I love candy-grams and use them many times instead of the regular cards - it is much more special and it is (of course) sweet.
I made this candy-gram for my boyfriend for our first anniversary together and he loved it (well - not as much as I loved his present... He proposed to me!!!).
I hope you like it too.
Here it is in case the photo isn't clear:
Dear Gareth,
The first time I met you, I thought you were
SOUR
,
but some
SMARTIES
convinced me to give you a shot.
Our
FIRST
date was a disaster,
but when we look back on it, we
SNICKER
(s).
When I asked about your
TATOO
,
I thought you would
BLOW-UP
because it was for your ex.
You
MUST
understand that I look back on it
fondly,
because when you gave me my goodnight kiss,
I remember a
BOOM
.
The magnetic attraction between us sent me to
MARS
!
I'm glad I gave you a chance-
No one could make me as
HAPPY
as you.
Love,
Amanda
A Few Bars of Sweet for my Sweet
by Marge Smith
(Minneapolis, MN)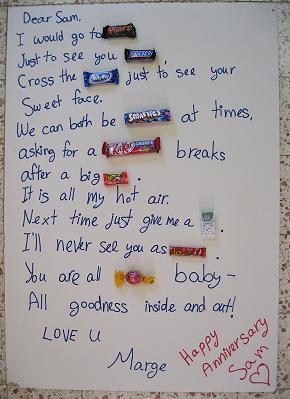 Sweets for My Sweet


I made this candy bar card for Sam, my boyfriend for our 6 month anniversary.

I hang it on his dorm room door (we're in college) and when he left his room he saw it - he was surprised (and a little embarrassed... yes - my Sam is a bit shy).

It was one of many little surprises that I had planned for him.

Enjoy!


Dear Sam,


I would go to MARS

just to give you a SNICKERS,

cross the MILKY WAY just to see
your sweet face.

We can both be SMARTIES at times,

asking for a KIT-KAT breaks

after a big BLOW-UP. It is all my hot air.

Next time just give me a TIC TAC.

I'll never see you as SOUR.

You are all BON-BON baby,

all goodness inside and out.


Love U,

Marge


Happy Birthday to You My Love
by Gail
(LA, USA)
I made this candy bar card for my boyfriend on his 20th birthday.

Sorry - I didn't make a photo of it :0( but it was a great success - he totally loved it!



Dear Matt,


I just wanted to say:

You make my heart go BOOM when I am near you.

It feels like it is going to BLOW-UP and out of my chest.

You light me on fire and make me HAPPY.

When I love you all the way to MARS and back.

Our love is never SOUR.

I couldn't find someone as hot as you if I searched the MILKY WAY.

You make me so very HAPPY, my love.

I will call you my little KITTY-KAT.

When I met you it was love at FIRST sight.

For your birthday I'm getting your name as a TATOO.

Happy Birthday!!!


Love u to the moon and back.

Gail


P.S.
I love your site and I took the candy bar card idea from it.