Make Your Own Cookbook
The Family Cookbook
>> Unique Holiday Gifts >> Make Your Own Cookbook


Make your own cookbook with the favorite and / or traditional family recipes. This is a wonderful way to build a family legacy. Create your family cookbook and give it to your family members as a holiday present.


When I was a little girl my grandmother used to bake these delicious dry cookies. Over the years she passed away. Those cookies are one of the strongest memories I have of her. My mom kept the recipe and every now and then she bakes them. We get to enjoy eating them and remember grandma…


My aunt makes a chocolate cake I absolutely love. She brings it to every family gathering. I always ask her for the recipe but forget to actually take it.


These two recipes belong in my family cookbook.


Making A Cookbook
Making your own cookbook is a great gift for the holidays. Create a cookbook, make copies and…You are done! No need to prepare a gift list this holiday!!!


A family cookbook can be the perfect mother's day gift. Collect recipes from the extended family, craft the recipe book, make copies and give it to all the mothers in your family.
You can make dinner in honor of mother's day and serve dishes from the cookbook gift. Ask each family member to cook his dish.


You can make a cookbook as a bachelorette party gift for the bride to be.
If the bride is making her first steps in the kitchen collect recipes that are really simple and easy to make.
Ask each participant to bring with her to the party a card with her favorite recipe and to add a short greeting for the bride to be. Attach the recipe cards to a scrapbook. If you have a Polaroid camera you can take photos of each girl and the bride and add it to her recipe page. This is a nice souvenir from the bachelorette party that the bride can use again and again.
If you are looking for a gift to give your co-workers or your employees this holiday – making a cookbook is an excellent gift idea. A couple of weeks before the holiday party ask all the employees to hand over their favorite recipes and the story behind it. Create the cookbook. Ask each employee to bring his dish to the holiday party and run a contest for the most delicious dish. Give the cookbooks after you have declared the contest's results.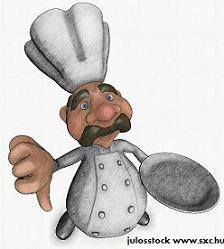 How to Make A Cookbook
Now it is finally time to make your own cookbook. Are you ready?


Digging for recipes

Start with your list. You can probably come up with a few recipes that go from generation to generation in your family – write them down.
Do you know those treats that every family gathering everyone is asking their maker "how did you do it?" and if she could give you the recipe? Add them to your list.
Ask the creators of these recipes for the detailed step-by-step recipes.
Ask all family members to contribute their special recipes.
Look for interesting stories behind the recipes – You might want to add them to the recipe page on the cookbook later on.
Read each recipe carefully. Can you prepare the dish from that recipe? Fill in the missing gaps.
Photos
Do you have photos of the dishes?
Ask your family members for pictures.


You can throw a tasting meal and ask your relatives to cook their dishes. Take photos. Invest some time to decorate the servings. Remember – We first eat with our eyes. If you have two left hands (like me), ask for help.


Got some lovely mouth watering photos?
Bon appétit!


Instead of using photos of the dishes you can use pictures of the person who gave the recipe.


Creating a Taste of Home Cookbook
Now that you have got the recipes and the photos it is time to actually make your own cookbook…


You can use Microsoft word to write your cookbook. Build a cookbook template and use it. Here is a free cookbook template from Microsoft office site you can download and use, and here is another free template you can download and adjust.


If you are looking for the professional looking cookbook I would recommend that you create a cookbook using a Photo Book software
. It allows you to design and make your own cookbook and then print it. The result is a stunning cookbook like the ones you buy in book stores. Make it the perfect gift for your family!!!


If you're using the software for the first time I suggest that you use a cookbook template and adjust it.


Select "Gallery" -> select "Family Recipes" -> Choose a size for your book -> "create your book: Select a theme" -> select "Family Recipes" -> Upload your photos -> add your recipes and photos and adjust the template.


After you become familiar with the software you can create your own cookbook from scratch or adjust one of the other templates.


Done?
I can't wait to see the look on their faces when they open your gift…


Return from Make Your Own Cookbook to Unique Holiday Gifts


Return from Make Your Own Cookbook to Great Unique Gifts Homepage