The Five Senses Gift Concept Valentines Gifts
>> Unique Valentine Gifts >> Five Senses Valentines Gifts



Valentine's Day is coming up and you want to surprise your wife with a romantic Valentines gift. You have some gift ideas in mind, but none of them reflects how much you love and appreciate her? Do you want to give your boyfriend an unforgettable night?

Our five senses gift concept might be exactly what you are looking for.


Here are three Valentine's Day ideas surrounding our five senses gift concept. Build a romantic date around it and… Enjoy!!!
First Gift
Taste – Prepare a picnic basket with breads, cheeses, sliced vegetables, a bottle of wine, chocolates and some sliced fruits. Don't forget to pack a big blanket.

Smell – Buy him an aftershave (or a perfume for her) and wrap in nicely. If you are limited on your budget buy 2-3 scented candles, Scent sticks or a body lotion and hand cream instead.

Sight – Select a book that your spouse will love and write a personal dedication inside it. You can make it your greeting card or use a greeting card as a bookmark.

Touch – Once you finished your picnic make sure your partner is comfortable and relaxed and give him a foot massage.

Hearing – Burn a CD of your spouse's favorite songs. If you two have a special song, make it the first one on your list. Make sure the car stereo is on when you both get into the car.

The picnic is your frame. Weave the rest around it.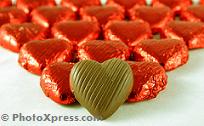 Second Gift
Taste – Chocolate frosting, whipped cream, honey, maple syrup.

Smell – Fragrant candles and scented rose petals (silk or real) to cover the bed with.

Sight – Blindfold and sexy lingerie.

Touch – Massage oil, feather tickler or handcuffs.

Hearing – Soft romantic music for the atmosphere.

We recommend that you set the bedroom with the candles, rose petals and music. Wrap the accessories in a nice gift box. You can also tie a gift ribbon around yourself. Give it to your spouse as your valentine's gift before you go to the bed room… Let your imagination go free and… have fun…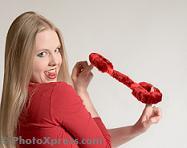 Third Gift
Taste – Arrange a romantic candle light dinner.

Smell – Welcome your date with a flower bouquet.

Sight – Get your partner sexy lingerie (it can be used latter on… as the date progresses).

Touch – Ask your date for a slow dance (after dinner - maybe before dessert).

Hearing – Buy a CD of romantic love songs.

(Preferred order should be smell-sight-taste-hearing-touch but…you are the director).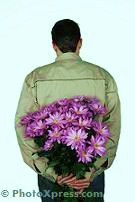 Have some new five senses Valentines gift ideas?
You are just a click away from sharing it with the rest of us...
Return from Five Senses Valentines Gifts to Unique Valentine Gifts

Return from Five Senses Valentines Gifts to Great Unique Gifts Homepage