Book of Love
by Sara
(Los Angles)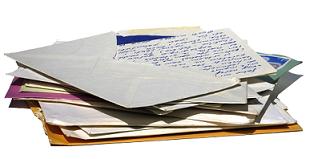 Me and my partner knew each other from our college days. We had a good relationship about 10 years before we got married. Those college days were so cheerful and I still have good memories to cherish. Valentine's Day was celebrated with colors. I used to give him some small, cute gifts and used to get gifts in return too.

After the college days, we could not meet each other personally, as both of us went to two different colleges for higher education. During that time, we used to send letters and keep in touch regularly. Mobile phone was not common that time.

After the college, we both got a job and our career was settled. We decided to get married. We both managed to get us transferred to one place, so that we could start a good married life.

On the first Valentine's Day after our marriage, my husband gave me a beautiful small gift which was covered in glittering papers and ribbons. I was very eager to open it. I thought it would be a gold pendant or a diamond ring or something of that sort as usual a husband gifts his wife during their first valentine's day.

However, when I opened it, I saw a small book. I was a little bit desperate. Nevertheless, with curiosity, I opened the book and to my surprise, it was a complete set of letters, I had written to him from the very first day of our relationship. He had kept all the letters safe and had bound it into a book now.

I was so happy seeing that, it was fun reading those letters. My eyes filled with tears with pride to get a partner who cared for me so much and feel that I meant a lot to him was great. I did not keep any of his letters with me. I had destroyed all after reading it. This showed that he is a so loving.

Even after that, I had received many gifts from him. However, this was the best Valentine gift I ever got and the most special gift I ever had in my life.