Love In a Box
by Anna Mekking
(the Netherlands)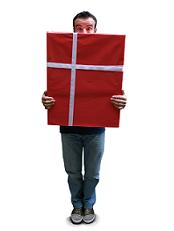 I am now 34 years old and I have been with my partner for over 10 years. In the past I have gotten a lot of not-so-great gifts from him, for my birthday or Christmas and also for Valentine's Day.

He started out giving me flowers. Giving flowers is always a nice gesture, but my boyfriend had forgotten that our only vase had broken just a few days before. To make a long story short, I ended up walking to the flower shop in inches of snow to buy a vase to go with my flowers.

Next year he bought me a book, which is a much better idea because I love books. It was a fantastic book, which I knew because I had bought it a week before and I had been telling him all week about this fantastic book I was reading. Thanks for listening, dear.

And so it went every year. One year it was a dress three sizes too big, another year a CD by an artist I hate. In the end we just gave up on exchanging presents and bought something for ourselves.

Last year, our relationship wasn't going so great. He was away for work a lot and I was swamped at work. The little time we spent together we were falling asleep on the couch without much talking. We really needed to work on our relationship, but we just didn't have the energy.

Then, a couple of days before Valentine's Day my partner came home with a big box, which he announced was ""our valentine's gift"". We opened it together and in it was everything we used to love but just sort of forgot about in the day to day grind.

There were painting supplies (which he used to love), a book on programming (which I used to love), an empty photo album to finally put ten years worth of photos in, and lots of other stuff. Cookbooks, tools, sheet music, it was like we stepped back in time to our first years together.

Now we spend our evenings together and we introduce each other to what we love. I taught him the basics of programming and he taught me a bit of painting. We found that working on your relationship is not a chore, and it's not about discussing your relationship at length. It is just simply sharing love. Love for each other and love for the things that fill you with joy and energy.