The Five Senses Gift Concept Wedding Gift Ideas
>> Five Senses Gift Concept >> Five Senses Wedding gift ideas



Your best friend is getting married. Are you looking for unique wedding gift ideas for him?Do you want to give your sister an unforgettable gift for her wedding?


Our 5 senses gift concept might be the perfect gift for the occasion.


Here are three special gift ideas surrounding the five senses gift concept:


First idea
The few weeks before the wedding are usually full of excitement and busy schedule. When the event is over some newlywed might feel emptiness as they go back to their routine.


A collection of fun and experiential gifts can ease the return to the routine and make the fun last a little longer.


Taste - Give the newlywed a romantic candle light dinner in a restaurant or cook them a gourmet dinner (don't forget the waiting and cleaning up- give them the full experience).


Smell - Make or buy a scented gift basket around one specific aroma (lavender, vanilla, rose, chocolate or other fragrance). You can use soaps, shampoos, aromatherapy oils, candles, bath salts, body scrubs, body lotion, scent sticks and others…


Sight - Buy tickets for a theater play, a ballet or an opera performance.


Touch - Pamper the newlywed with a massage spa treatment or invite a masseur to their home.


Hearing - Get 2 Tickets to a rock concert of the couple's favorite artist or a classical music concert.


If possible, get the tickets/vouchers with open dates. This way the couple can schedule it according to their convenience.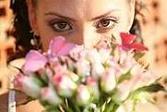 Second idea
Taste - Stimulate the couple's taste buds with a chocolate making workshop or a premium chocolate assortment.


Smell - Send them weekly flowers delivery for the first month after the wedding. Schedule its arrival on Friday morning and give them an early weekend start.


Sight - Get them a DVD subscription. It can be a subscription to the couple's nearest DVD library or to an online rental site that allows mail deliveries or watching movies online.


Touch - Send them to a couple's massage class – this will become a never ending gift once they implement the material…


Hearing - Buy 2 mp3 players and load songs the bride and the groom love. Invest time and thought in the song list…The right collection will make the perfect impression.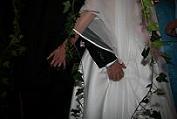 Third idea
Taste - Purchase a variety of 'take away' coupons (pizza, Chinese food, Thai…) for the couple to use.


Smell - Buy some scented candles and wrap them nicely.


Sight - Make a home video, a power point presentation or an album documenting the couple's life from childhood to the wedding day. Another idea is to make a video documenting the couple's family and friends greeting them for their big day. Play the video / presentation at the wedding party.


Touch - Give the couple a book or a DVD for learning how to give each other massage like professionals.


Hearing - Burn a CD with the newlywed's favorite songs. You may want to add a few words before each song or at the beginning of the disk.


Tried one of our 5 senses Wedding gift ideas?
Click here and share your experience with us!

Have some new 5 senses Wedding gift ideas?
You are just a click away from sharing it with the rest of us...
Return from Five Senses Wedding gift ideas to 5 Senses Gift Concept

Return from Five Senses Wedding gift ideas to Great Unique Gifts Homepage